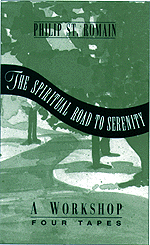 The Spiritual Road to Serenity
A Retreat by Philip St. Romain, D. Min.
This retreat was presented for Contemplative Outreach of St. Louis and was professionally recorded by Liguori Publications, Inc.
Now, with Internet technology and RealPlayer, you, too, can listen to the retreat conferences and discussions between Dr. St. Romain and participants as he explains the following pathways to a deeper spiritual life:
Give up on worldly peace (addictions, attachments, etc.)
Be open to your own growth
Love God above all
Be reconciled in your relationships
Learn to meet your needs
The five retreat conferences are each divided into short segments (about 20 minutes each) to facilitate prayerful listening and reflection.


Listen to the Conferences in Real Audio - free!
First Conference

Second Conference

Third Conference
Fourth Conference (web browser links)
Fifth Conference (web browser links)


Part One
Part Two (marked Pt. #1 on RealPlayer--a mistake)
Part Three (ditto above: it does work, however)


Purchase and download the podcasts of this series (coming soon)

Preview and/or purchase the Pathways to Serenity eBook

Handouts and Resources
Prayer in the Christian Tradition
Spiritual Transformation
The Nature of Attachments
Origin of the False Self System
Characteristics of the False Self System
Addictions
How to Drop Attachments and Addictions
The Two Ways to Grow
The Four R's of Breaking Free
---

Home | Internet Programs | E-Mail