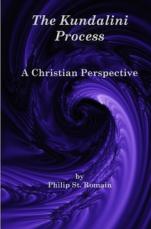 Paperback Book: $16.00
Amazon Kindle: $8.99
In this book, author and spiritual director, Philip St. Romain, presents an understanding of the kundalini process that can help Christians recognize its signs and its place in the spiritual life. Following up on his earlier work, Kundalini Energy and Christian Spirituality: A Pathway to Growth and Healing, Philip uses the philosophy of St. Thomas Aquinas and more modern approaches to human nature to explain how kundalini is a natural process that is designed to integrate all of the levels of our human nature in deep union with God. He notes that this process is at work in all of us at a very low and gentle level, but that it can become intensified in certain conditions, presenting major challenges and blessings for those who experience such activations.
This book is sure to help pastors, spiritual directors, and anyone interested in spiritual growth come to a better understanding of the mysterious transformative power that lies deep within all of us.
Contemplative Ministries, Inc. 2017
140 pages for paperback; continuous scrolling for digital versions.
_____________________________
Contents
Note to Publishers
Introduction
About This Book. Acknowledgements.
1.  The Kundalini Process
What is kundalini? Higher spiritual consciousness. Symptoms of kundalini activation. Disciplines for activating kundalini. Coping with kundalini.
2.  Kundalini: The Big Picture
A Christian Philosophical Explanation of Kundalini: God, and the intuition of being. God as Creator and end. The ladder of being. The human soul and the material universe. Matter, space and time. Stages in the journey. The union of body and soul. Enlightenment. Kundalini as an integral form of enlightenment. Conclusion.
3.  A Closer Look
Human nature. A modern approach. Kundalini dynamics. 
4.  Energies of the Soul
Bios (biological life). Psuche (psychological life). Pneuma (spiritual life). The vital interface. The causal body (Ground of Being, or Apex). Zoe (divine life). Kundalini energy. 
5.  The Chakra System
A. Attention is energetically embodied. B. Different motives of attention are embodied differently. C. Habitual attentiveness of a particular motive creates imbalanced attention and energy. D. Spiritual growth entails bringing the lower chakras into alignment with the higher.
6.   Kundalini Activation
Ignition. Consequences of activation. Lifestyle changes.
7.  Kundalini and Christianity
Kundalini in the bible? Kundalini and the demonic? Pentecostal phenomena. Theological considerations.
References
Appendix 1: Kundalini and the Holy Spirit
Appendix 2: Kundalini Stories
About the Author