Jesus is Risen. Philip St. Romain
The cutting edge of a Christian's attitude is belief in the resurrection of Jesus. We examine the evidence for the resurrection and show how we can encounter the risen Christ today--how we can make sense of pain and problems, and learn to live the risen life.
68 K pdf; pass it on to all your friends and family members as an email attachment.
Christ OS. Philip St. Romain and John Sylvest.
How is a computer operating system upgrade like the incarnation of Jesus? See what Phil and John (aka Jeve Snobs and Gill Bates) have to say in their fanciful reflections on this. There is food for the serious thinker, and a promising way to "do theology." Click here.
Dialogue Between Jim Marion and Philip St. Romain.
In March and early April, 2006, authors Jim Marion and Philip St. Romain held an open dialogue on the Shalom Place discussion board. A wide range of topics were discussed, the general focus being Christian mystical theology and the nature of Jesus Christ. 219 K pdf.
The Humanness of Jesus. Lydia Champagne, CSJ.
An instructive and enjoyable introduction to the human Jesus seen through the lenses of the Gospels. Sr. Lydia is an excellent teacher and writer who takes us into the world of Jesus and helps us better understand how it is we can say that he was human like us in every way but sin. This is also a good introduction to the Gospels themselves, and how they came to be. 516 K pdf.
In the Midst of Winter, Louise Hageman OP
A classic treatise on the transformative possibilities of suffering. Introduction by Adrian Van Kaam. 
Dimension Books, 1985. Find out more.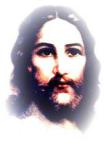 Miraculous Image? Philip St. Romain
Click here to find out more about this most amazing image. Even if you don't believe the story behind it, you can download and print it for a wonderful icon to use in prayer.
On Christian Enlightenment. Philip St. Romain
Philip describes his experience of the "awareness state," which is similar in many ways to Eastern descriptions of enlightenment, and he compares this to his experiences of Christian contemplation, in which God's loving presence is directly communicated to the soul. Click here.
Prayer in the Christian Tradition. Philip St. Romain
Straightforward presentation on Christian prayer, with special emphasis on contemplative prayer forms and stages of contemplation. Click here.
Spiritual Transformation. Philip St. Romain
What is human nature like, and how do the different levels of our being communicate with one another? This overview of Christian metaphysics and spiritual transformation is deceptively short and simple, but intuitively appealing. Click here.
Spiritual Living Skills. Philip St. Romain
There is an active aspect to Christian spirituality which entails ongoing spiritual practice. The focus of these practices is to orient the functions of our human consciousness to both receive and cooperate with God's grace. This eight-page, 85 K pdf document details such skills, providing a thorough, holistic approach to living the Christian life.