Peace I leave you, My peace I give you: peace that the world cannot take away Do not let your hearts be troubled, and do not be afraid. (John 14:27)

These words of Jesus provide the focus and motivation for this web site. It's purpose is to provide a variety of resources that encourage and support Christian spiritual practice. As such, it is an online spirituality center -- a place where you can find retreats, workshops, books, handouts, worksheets, and a community of kindred spirits who are seeking to grow in Christ.
I have been able to develop these resources because of the support provided by Heartland Center for Spirituality, in Great Bend, KS. Kudos to the Dominican Sisters of Peace for recognizing the role of the Internet in furthering the "Holy Preaching" they so value and emphasize.
Philip St. Romain, M.S., D. Min.

New book with free pdf and ePub versions!
God, and the Problem of Suffering. Philip St. Romain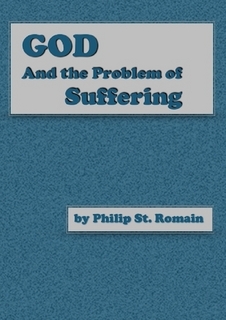 Seeking light from Scripture and Church teaching, this booklet examines how it is that a good and powerful God can allow creatures to suffer from abuses inflicted by nature, accidents, social injustice, sickness and death.

Preview via links below:
Paperback book: 4.95; PDF eBook file, Free; epub eBook file, Free.
- see Amazon Kindle, Apple iBookstore, Barnes and Noble Nook and other eBook providers for free download options.
- Audio Book (73 min. 70 mb mp3 file)
- a webinar on this topic is also available.
- Youtube presentation (33 min.) based on book.

Keep in Touch with Shalom Place: Subscribe to A Daily Spiritual Seed
Daily email devotional on Christian spirituality featuring a quote by a spiritual writer, Scripture readings and reflections, excerpts from classical writers.